Globo summer festival Saluzzo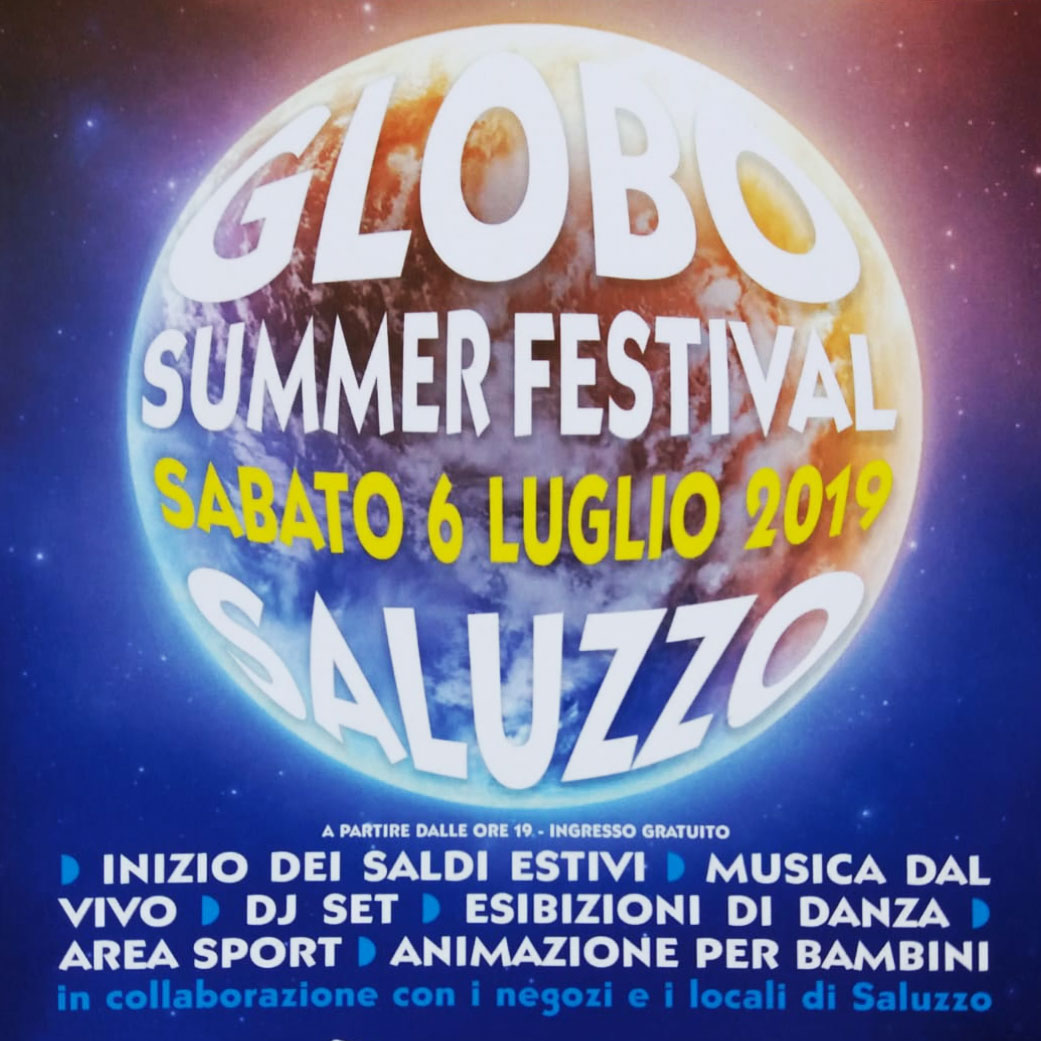 Sabato 6 luglio arriva a Saluzzo il Globo summer festival.
IN COLLABORAZIONE CON I COMMERCIANTI DI SALUZZO.
Dalle ore 19, 15 location tra piazze e vie coinvolte,l' inizio dei saldi estivi con oltre 100 attività aperte tra negozi e locali,200 ballerini con le piu' importanti scuole di danza del saluzzese,gruppi e dj set.
Area bambini con giochi in legno, clown, gonfiabili e truccabimbi.
Area sport,area fitness & wellness, mostre artistiche e quadri in diretta.
PROGRAMMA GLOBO SUMMER FESTIVAL

-CORSO PIEMONTE
LA CHAMBRE ORGAN QUARTET(JAZZ)//VOICE ART ACADEMY//DJ BTR//DJ HEMPER & BLUFFERT

-VIA PALAZZO DI CITTA'
THE FEEL'S(ROCK)//SELEKTA 3(DJ DK-DJ LEFABRICE-DJ ALEDJACK)//DJ ANISA SULEJMANI
KEEP YOUR HEAD UP(SHOW BATTLES-STREET DANCE)

-CORSO ITALIA----I RIPARO PLANET
THE KASTERS TRIO(ROCKABILLY)//STILL JAZZ TRIO//SISTER ARCH(TRIO ARCHI)//
FRANCO MONTE BAND// DANTE'S JAZZ FRIENDS//DJ PAUL SCALETTA/DJ FELIX//DJ MARIO MIX

-VIA GUALTIERI //VIA BALBIS
FEDERICO ROSSO TRIO(ROCK)//ELLI'S (ROCK)//DJ JACKY

-VIA SILVIO PELLICO//PIAZZA CAVOUR
SALUZZO BROKER PLANET orologi replica
SWEET HOME BECETTO AREA LIVE//MITCH//LAZY LADY SWING//DJ LUDOVIC GOSMAR

-ALA DI FERRO FIT ACTIVE PLANET
"IL PIANETA DEL FITNESS & WELLNESS "
ESIBIZIONI di POLE DANCE,PILATES MATWORK,CALISTHENICS,FUNCTIONAL TRAINING,MUAY THAY & K1,STRONG&ZUMBA,FUNZIONALE A CIRCUITO,SPINNING,LIVE PHOTO,PARRUCCHIERA,ESTETISTA.
DJ ARIELE GIORDANINO

-PIAZZA GARIBALDI//VIA MARTIRI DELLA LIBERAZIONE
DJ ELIAS LENTINI B2B DJ MATTY MELLANO//DJ LUKA S//SECRET DJ

-PORTI SCUR//PIAZZETTA MONDAGLI//VIA DEODATA
RUSTY ALBERT BLUES BAND/JEGO//ENSOR LIED (ROCK)//MECHINATO TRIO(ROCK-FOLK)
DJ STEFAN FRE//DJ PIDDU

-PIAZZA RISORGIMENTO
ARANZULLA SOUND(ROCK)//ESOLS (ROCK)//GOOD MUSIC BAND(ROCK-BLUES)
DJ MICHELE IACOVELLI//DJ MAXEMME

PIANETA DANZA a cura di PICCAT, MEZZE & PUNTE , CORALLI ORIENTALI ,LIBERTAS,ASD RELEVE'.
AREA SPORT a cura di KINESIS FUNCTIONAL , CALCIO MUSIELLO MASCHILE,CALCIO MUSIELLO FEMMINILE,VOLLEY VAL PO.

ANIMAZIONE PER BAMBINI A CURA DI MAGO TRINCHETTO,TRUCCABIMBI & GONFIABILI.
MOSTRE ARTISTICHE E QUADRI IN DIRETTA a cura di MATTEO NOTARO,FEDERICO DEAGLIO,MARIA GRAZIA RIZZO,AMELIART,GIORGIA OPERTI,DAVIDE BRESSI,LE NUVOLE E MOLTI ALTRI!
News
letter
Iscriviti per ricevere tutte le nostre news